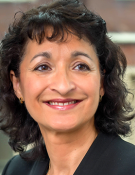 Audrey Williams

, partner at Keystone Law
Employment law expert Audrey Williams advises on sensitive HR and recruitment issues, senior executive appointments and exits, restructuring and redundancies. She advises many large organisations and household names on the full hiring process, from onboarding to exits.
My message is that managers should help to promote positive mental health at work because:
it's the right thing to do
it gives you a much better chance of complying with the law
Why are there not more managers getting pro-actively involved in the wellbeing of their staff? I'll start with the misconceptions that get in the way, before setting out some quick wins – things managers can do now to help employees thrive.
Misconceptions about mental health and the law
Here are some common misconceptions I come across in my legal practice.
Health and safety is all about slips and trips
This is false. An employer's legal duty of care includes looking after their employees' mental health and wellbeing. This means that it's wise to carry out stress audits and check on levels of bullying and harassment. Being ignorant is no excuse.
Employers are responsible for what happens to staff 
This is true. But remember that individuals are not supported by a vague corporate entity but by their manager.
Poor mental wellbeing is not a disability 
This is both true and false. If an individual has a mental impairment with a substantial, long-term effect on their day-to-day activities, then it is classed as a disability. This means the Equality Act applies and you will need to consider things like reasonable adjustments, such as flexible working.   
What can managers do to help now?
The quick answer to this question is to remain alert, have open conversations, know your staff and be willing to ask about mental health or personal issues.
The Acas framework encourages managers to build rapport with staff. Some tips for doing this include:
do not be afraid to ask for help – you may need support from HR, mental health experts at work, an internal counselling service or occupational health
if someone is off sick, try and keep in touch – this can be tricky, for example someone with depression may be prone to detaching themselves from colleagues
flexible working or part-time arrangements can offer a valuable support mechanism
There are strict legal rights that apply when an individual has been employed for 26 weeks known as the right to request flexible working. Often an individual may need a temporary arrangement. The Acas framework recognises the need to support work-life balance for mental health benefits.
The coronavirus (COVID-19) pandemic has certainly accentuated the link between our wellbeing and the way we work. At Keystone, we have a vastly different model compared to a traditional law firm and it works well. Our lawyers have more control over their work-life and we've removed some of the stressors which lawyers usually experience, such as targets and management meetings.
To conclude, a great deal around work and the law hinges on what is interpreted as 'reasonable' behaviour. For me, the more you talk to staff and the more you keep an open mind on things like flexible working, the more reasonable you are likely to be.