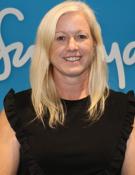 Tracey Taylor-Huckfield

, director of people and corporate services at Sue Ryder
Tracey joined Sue Ryder in November 2016 and has 20 years of human resource management and organisational development experience, gained across NHS organisations and major UK charities.
Bereavement is something that everyone will experience in their lives, yet as a society we still have a long way to go when it comes to feeling comfortable talking about and supporting each other through grief. I know from my role that the workplace is no exception to this, and that sometimes people struggle to get the bereavement support they need from their employer.
The conversation around workplace bereavement support has never been more important than now. Coronavirus (COVID-19) has meant that more of us have lost loved ones and some of us have had no choice but to cope with grief while being socially isolated.
Many people will feel hopeful that life will return to 'normal' soon, but people who have lost loved ones may feel that they will never be back to normal. As we begin to live with the ongoing impact of the pandemic we must not forget those who have been bereaved.
What you can do
It's always been important for employers to proactively support staff members who are going through a bereavement. But as the number of people who have experienced a bereavement has increased significantly over the past two years it's more important than ever that support measures are in place.
At Sue Ryder we support families and individuals who have been bereaved. And I'm passionate about putting into practice the expertise we have gained through our work to support our own staff. I would encourage all employers to think about how they can support bereaved employees. I've highlighted some of the ways to do this below.
Communication and empathy
Communication and empathy are essential starting points. Taking the time to speak to bereaved employees, by offering condolences and asking them what support they might need. Many people are worried about saying the wrong thing, but often the worst thing you can do is to not say anything.
Speaking about going back to work after their mum had died, one member of our online bereavement community shared:
"It was very awkward. The Management team all ignored the fact that my mum had died, [and] didn't offer any condolences to my face."
Create culture change
Both employers and employees have a responsibility to create culture change at work. We must have the courage to talk about grief and encourage open conversations – let's break down the taboo.
Working from home can make this more difficult but many important steps can still be taken. This could include sharing bereavement resources through all staff emails, making a space for these discussions in virtual team meetings and sharing messages and personal experiences on your staff intranet or internal channels.
Offer practical support
Practical support is also important. This could include offering time away from the workplace and flexibility in workloads and shift patterns. Most of us will need time off work to grieve, as well as sort out practical arrangements after a death. One member of our online bereavement community said:
"There was certainly pressure to get back to work. They called me every day which was just too much – even on the day of my husband's funeral. I had to go through attendance management and there were official letters implying I could be dismissed."
Bereavement leave policy
Develop a bereavement leave policy that provides both line managers and employees with guidance and reassurance of what to expect if they experience a bereavement. I know that staff can feel more empowered with a policy, as this can help with how and what to communicate with a bereaved employee. But it also gives employees reassurance and certainty about their situation.
Don't put a time frame on grieving
Finally, there's no time frame for grieving – everyone is different. Bereavement isn't something people 'get over' and they may need support for months, or even years. Keep channels of communication open in ways that work for bereaved colleagues to make sure they are getting the support they need, however long after the death of their loved one.
For more on how to support bereaved employees, see: