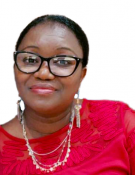 Rosaline Kunrunmi

, Acas apprenticeships lead
Rosaline Kunrunmi joined Acas in September 2018 as organisational and people development manager to increase the number of apprentices and to ensure our apprenticeship levy expenditure is used in the most cost-effective way possible.
The National Apprenticeship Week 2022 theme of 'Build the Future' continues from 2021. The 15th annual week-long celebration across England focuses on the benefits apprenticeships can have on individuals, businesses, and local communities.
The theme for this year inspires individuals of any age to reach their career goals by building their skills and experience through an apprenticeship. Gillian Keegan, apprenticeships and skills minister said, "It takes courage to take the path less travelled and not take a more obvious university route". 
You could argue that, while we need a bright future, there has never been a more challenging time to start work – particularly if you are working remotely. Peter Mucklow, director of the Apprenticeships, Education and Skills Funding Agency said, "Apprenticeships build skills supply now and for the future, and form an important part of many organisations' recruitment, skills and business strategies".
At Acas, we contribute to the Apprenticeship Levy. We utilise the levy and we can see the return of our investment when new apprentices are brought into our organisation.
Recruiting internally and externally
At Acas, we currently have 14 externally-recruited apprentices and last year we were fortunate enough to be able to retain 5 as permanent colleagues. I recently caught up with 2 of our apprentices during a round table engagement conversation with Prospects. They talked about why they chose Acas's apprenticeship scheme and the skills they've learnt since joining Acas.
Our apprenticeship scheme is not just for new recruits. We encourage existing staff to combine formal learning with on-the-job experience, helping build their confidence and enhance the contribution they make to the business. We currently have 15 internal colleagues undertaking apprenticeships from level 3 degree to level 6 degree. One of these apprentices has worked in her role for many years but wanted to get the qualification to match her unquestionable knowledge. It's win-win all round.
Watch Rosaline Kunrunmi and Chris Rea talk about the advantages of apprenticeship programmes on YouTube
Lessons for life
As a HR professional and a school governor, I strongly believe that apprentices have incredible things to teach us all about how we mix learning with earning. I encourage organisations, including small to medium-sized enterprises, to consider hiring apprentices and understand how apprenticeships can help build the future and our economy. 
There's an interesting book by Professor Lynda Gratton, 'The 100 Year Life- Living and Working in an Age of Longevity'. It argues that the traditional three-phase life of 'education, work and retirement' needs to be replaced by a much more progressive mix of living, learning and working.
For me, I'm opening the door to a new world for the apprentices I look after. It's vital that they are made to feel welcome and they, and us, can get the most from their opportunity to learn while they earn.
Employing apprentices are a reminder that:
diverse voices are always welcome – apprentices help promote workplace diversity as well as social mobility
it's good to be identified as a 'learner' and it's something we should embrace at different points during our lives
every workplace can seem a bit unusual, especially during this new way of working and apprentices help us stand back and take a fresh look at the way we do things
Acas have been lucky to be able to keep our apprenticeship scheme going especially during the coronavirus (COVID-19) pandemic. Seeing different cohorts complete their end point assessments with distinctions, as many here have, has been very satisfying for me personally.