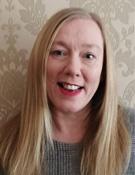 Elaine Dyer

, Acas senior internal communications manager
Elaine is the senior internal communications manager at Acas, leading a team of internal communication professionals who deliver all the organisation's internal communication requirements, advising the Board and driving continual improvement.
Since joining Acas on 1 April 2020, I have only ever known remote working. The only colleagues who I have met face to face are the 3 people who interviewed me for the role in London, in February 2020.
Colleagues regularly ask me "Has it been strange – working with people that you have never met?" And the honest answer is that in some ways yes it has, but in others myself, my team and the colleagues I work with have just got on with it. We are definitely a resilient crowd here at Acas but, like everyone else, we are adapting to new ways of communicating and figuring out what kind of management styles are most effective.
I must admit that as a long serving people manager, one of the 'tools' I had in my managerial toolkit was the ability to read people quickly when I met them and tailor my approach to get the best out of our future relationship. This has proved more difficult to do while working remotely and only having virtual contact. I found that I had to do a lot more listening and less talking (which does not come easily to me!). I don't think that joining Acas would have been as easy, if it hadn't been for the warm welcome I received from my colleagues. They really understood how challenging it was for me to 'join in' when I had never met any of them. Without their support and understanding I doubt it would have felt as comfortable as it did.
In my role I am fortunate to have a team of fantastic internal communications professionals reporting to me. They worked especially hard to provide me with a first-class induction, providing me with all the information I needed about the organisation, a who's who of my colleagues and, most importantly, what all the acronyms we used internally stood for!
For me, keeping in touch regularly with my line manager, my team and my close colleagues has proved invaluable. Not only does it provide a platform for sharing knowledge (I am still learning), but it is also an opportunity to virtually socialise and get to know people a bit better.
Our new advice on working from home during the coronavirus pandemic takes you through the practical steps you can take to make homeworking work for you and your teams, including how to manage homeworkers and support those starting a new job remotely.
These days, most of my Teams and Skype calls usually end with us saying "Once this is all over we can go out and have a bite to eat and a celebration drink" and that's what I hang on to – looking forward to whatever the new normal will be and the opportunity to 'really' meet my colleagues face to face for the first time. It will be just like joining the organisation all over again. A challenge that I am already looking forward to.