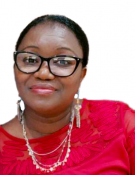 Rosaline Kunrunmi

, Acas apprenticeships lead
Rosaline Kunrunmi joined Acas in September 2018 as organisational and people development manager to increase the number of apprentices and to ensure our apprenticeship levy expenditure is used in the most cost-effective way possible.
The 13th annual National Apprenticeship Week (3 to 7 February 2020) is a great time to highlight the fantastic opportunities that an apprenticeship brings to employers, individuals, local communities and the economy.
The theme this year is 'Look Beyond' – we're encouraging everyone to look beyond the outdated stereotypes surrounding apprenticeships and to celebrate the diversity of opportunity and value that they bring to the country today. Apprentices play a vital role in helping young people, their parents, and employers to look beyond any misconceptions they may have about apprenticeships. By sharing their experiences and stories, apprentices can shine an important light on their route into employment, the wide variety of career options that an apprenticeship opens, and the fantastic work they are doing with their employer.
Apprentices at Acas
We have 15 apprentices working at Acas. Two will complete their apprenticeships in February 2020 and have already landed permanent jobs with us, as part of our wider talent management strategy. Apprenticeships are a practical and effective way of bringing new talent into the organisation and making sure that we have a more balanced age profile across the organisation. All training for them is covered through the Apprentice Levy raised across our total wage bill.

Apprenticeships for existing employees
You do not have to recruit new staff to take advantage of apprenticeships. At Acas, we encourage existing staff to combine formal learning with on-the-job experience with an apprenticeship, enhancing their capability alongside their current role.
Apprenticeships can be attractive to existing staff by:
supporting longer-term career aspirations
providing opportunities to build up skills and gain qualification
supporting continuing professional development