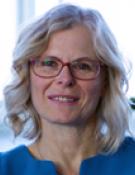 Susan Clews

, Acas Chief Executive
Acas Chief Executive Susan Clews has worked in Acas frontline operations and as Director of Strategy and Chief Operations Officer. 
Innovation is usually seen in a positive light. We see innovators as having foresight and the ability to solve problems that leave most of us guessing. And yet we hear a great deal about disruptive innovation. This term was first developed by an American academic in the 1990s. It describes the way new companies gatecrash existing markets and create products people did not even realise they needed but very quickly cannot live without – such as smartphones. 
Innovation can clearly be both exciting as well as a little scary, as it often requires us to adapt to unexpected change very rapidly. Speaking of adaptation, nothing has challenged us more in recent decades than the pandemic. As a leader, this has led me to ask myself: how do we manage the unexpected?
The 3 elements of leadership
I believe that running any organisation is about being able to manage 3 core elements of leadership. The effective leader is able to pivot between these 3 elements, maximising the opportunities which arise, and minimising any negative impact on staff and customers. 
1. Business as usual
It takes more than a pandemic to stop most business meetings going ahead. I am proud to say that within 2 weeks of the first lockdown, the majority of Acas staff were kitted out with the right tech so they could respond to the huge increase in customer calls to our helpline. 
2. Forward planning
The need to create a coherent and engaging vision for what the future of your workplace looks like never goes away, even if the external environment is very unstable. Although the path you aim to follow may need to be scaled back in terms of ambition, knowing where you want to get to is vital, as is being open and honest about what lies ahead. 
3. Preparing for the unexpected
Although it's very hard to prepare a business for a pandemic or a recession, we can learn from the past. For example, research has shown that companies with good employment relations came out of the 2010 recession in better shape than those without. Things like effective employee voice and participation really do build organisational resilience.
Being alive to your community
Tackling stress has never been more important for business leaders. April is Stress Awareness Month and the theme this year is community. This is very fitting, as what many of us feel we have lost most is a sense of belonging, whether at work or in our social lives.
It does not surprise me that the campaign will look specifically at the issues of trust, diversity and inclusion.  One of the features of the pandemic is that it has added to existing inequalities. The evidence is clear – women, minority groups, older and younger workers have had a harder time than most.
For me, promoting community is about:
compassionate leadership – you demonstrate this through regular, authentic communication with staff and by championing equality and diversity in all its forms
reaching out to everyone – as part of our campaign to promote stress awareness this month, we are highlighting to managers the need to tailor their management style to suit the individual needs of staff
offering practical support – at Acas we have trained our managers in how to look after the wellbeing of their staff remotely, as this offers new challenges for spotting and responding to problems. It's about recognising that online communities need to be nurtured in different ways. And let's not forget that managers also need to look after themselves
Turning our ambitions into business as usual
To return to my disruptive innovation analogy, you could view mental health awareness and hybrid working as 2 aspects of working life that have gatecrashed our usual day-to-day concerns. We have finally woken up to the fact that we cannot function effectively without psychological wellbeing or some degree of work-life balance.   
It's easy to make a case for these issues being a regular feature on board agendas when we are in crisis mode, but how do we maintain the momentum going forward?  
I am passionate about turning longer-term visions for the way we live and work into everyday ways of being and doing right now. Mental wellbeing is here to stay – not just for April, but for every month – and that is a good thing. One silver lining of the pandemic has been that it has taught us to develop our own coping strategies, many of which involve being creative about social interactions.
And the way we work in the future is a conversation that we've started and must continue. Let's focus on how we work, the decision-making processes we create, and giving staff a greater degree of control in their working lives. Communication and consultation are, as ever, critical here and were an important factor in helping employers survive the last recession.
By necessity, many of us have had to embrace some of the disruptive aspects of change over the last 2 years. In the future perhaps we will be quicker to protect the most vulnerable, but also quicker to identify the positive benefits the unexpected can offer.