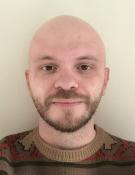 Ben Littlewood

, apprentice communications support officer
Ben started working at Acas in February 2022. He's worked on projects involving email marketing, social media and PR, amongst others.
I started working at Acas in February this year, and as an apprentice within the organisation I'm very much learning my craft. To be honest, writing a blog around loneliness was not something I expected to be doing when I first took up the role.
So, you might be thinking as you have not read anything from me before, what do I know about this subject? Well, I'll get to that, but thankfully Acas knows quite a bit around the subject of mental health and how we can support it.
What I know about loneliness
My first thought I'd like to talk about is an obvious one. As human beings, surely, we all want to reach out and help each other so that no-one is suffering alone? I think the term 'suffering alone' is important, because there is a big difference between being alone and loneliness.
One of the first things I learnt when taking up this role in comms is that you need to know your audience first. Are people feeling lonely since the big change to flexible working? Some of us are, yes. A survey conducted by Silicon Reef in February this year found that 36% of the people asked had experienced a sense of loneliness at work. So how can we help with this?
Like many others during the coronavirus (COVID-19) pandemic, I found the lockdowns and the big shift to working from home a struggle mentally. I never thought I'd be relieved to be going into the office, but here we are. Simply being able to interact with people throughout the day, or a change of surroundings are things I found helped massively.
What you know about loneliness
A lot of people reading this will know that loneliness has been on the rise during the COVID-19 pandemic, as outlined in the Campaign to End Loneliness report. While the pandemic has undoubtedly contributed to this, it is not the only factor.
The workplace can often act as a small community, something I know I took for granted previously. It varies from workplaces and individuals on how we stay connected and interact, but generally we all have similar needs – to be listened to, engaged and, amongst other things, have a little bit of fun.
Zoom quizzes replaced pub quizzes. There were a lot of new hobbies for a lot of people, personally I've never seen so many people bake banana bread.
Fundamentally, you know what works for you. If you do find yourself needing support, Acas can help.
What Acas knows about loneliness
At work, keeping in contact with your managers and colleagues is something that helps a huge amount, that bit of human interaction that we all crave in some capacity can go a long way. This is something outlined in the Acas framework for positive mental health at work, but also that this is a shared goal between employers, managers and employees.
Acas offers advice and support on how to take care of mental health. Together we can work towards creating a workplace environment that reduces the stigma on the subject and allows us to support ourselves as well as each other.